PRODUCT INFORMATIONABC PE Film Blowing Machine
---Produce Both HDPE and LDPE Film (mostly for HDPE bags)
----It improves the physical toughness of film through multi-layer co-extrusion.
----With one main extruder providing material for out and inner layers,
it reduces one main extruder configuration and achieves energy saving and low consumption.
----ABA Film suitable for producing super market bags, t shirt handle bags, garbage bags, fruit bags and Bio-mulch film
--- Add Caco3 , wasted Film and other filliers to save Raw material.
--- Run 24 hours
----Higher capacity :
Capacity :
100-120kgs/H
3.3TON /DAY
99 TON/MONTH
SCREW DIAMETER: 55* 2

Why use Caco3
1 ) Price increasing of new material and Petroleum, it will less cost for us to use Caco3 and recycle film instead of new material .
2) Our ABA Film machine, A layer for outter two layer film, Film surface will be more smooth and light, better stretch . B layer for caco3 and recycle film or other filler.
3) Film roller from ABA Film blowing machine , better film quality than one layer film machine, less cost raw material than one layer film machine , less machine cost than ABC film machine .

You can get back all machine money from saving raw material in one year .
Main Technical Parameter :
FEATURE

MODEL

SJ-2L-55 ABA

Suitable material

HDPE

Layer number

3-ABA

Film thickness

0.01-.0.10MM

Max output

120KG/H

Max film width

1000MM

EXTRUDER

Screw diameter

Ø50MM×2

Screw L/D

30:1

Screw material

38CrMoALA+PTA ALLOY

Barrel material

38CrMoALA+PTA ALLOY

Barrel cooling

200W×6

Main motor

22KW×2

Heating power

22KW

Die diameter

HDPE ABA80MM

Heating zone

10

Air blower

7.5KW

TAKE UP UNIT

Take up type

UP and DOWN

Up roller width

1100MM

Up motor

1.5KW

Take up speed

10-120M/MIN

WINDER

Winding roller width

1100MM

Winder type

Auto Friction Winder

Winding motor

1.5KW

Max winding diameter

800MM

DIMENSIONS

L×W×H

6.8×3.5×6M

OPTIONAL DEVICE

AUTO LOADER,CORONA TREATER,

ROTARY DIE HEAD,MUNAL WINDER,ETC
DETAIL IMAGES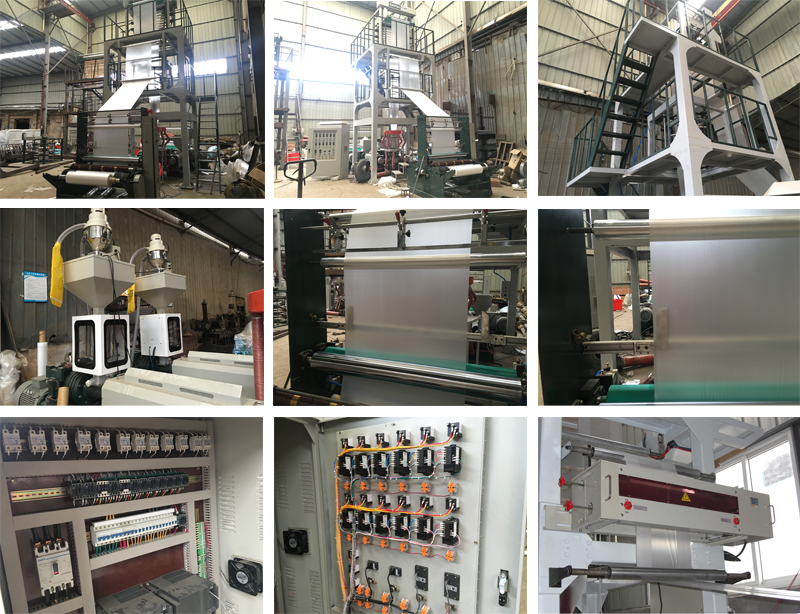 We are plastic bag machines, Film machines, Printing machines suppliers/manufacturers from china factory . We also can produce Bag machines according to the client's requirement. We are always try our best to become the good Supplier and manufacturer of RDL OPP Bag making machines, BH-FQ Plastic Bag Making Machines, Rolling Garbage Bag Making Machines . and welcome the customer from all over the world to contact with us.
Ruian Binhai Plastic Packing Machinery Co.,LTD